FIDA is delighted to have partnered with Sustainable Fashion Week to offer two creative fashion projects, as well as an online talk and discussion forum with five pioneers of the fashion industry.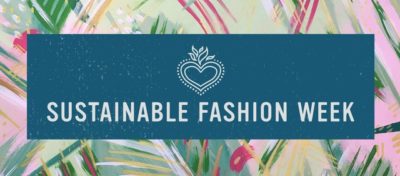 We are proud to have partnered with Sustainable Fashion Week to support their first ever event in September 2021. You can still take part in one or both of our creative challenges that launched on 13th September – Upcycling Jeans and Equilibrium.
We also hosted our own event, Fashion Forward – an online discussion forum with a panel of sustainable fashion pioneers. They included Amelia Twine, founder of Sustainable Fashion Week UK; Niki Taylor, Fashion Revolution's country lead for Scotland; Cassandra Belanger, co-founder of international group Zero Waste Design Online; and Siobhan McKenna, founder of ethical fashion brand ReJean Denim.
Why not try one of our sustainable fashion Challenges! Any work you submit between now and October 22nd will be included in an online gallery we will share to showcase students' work during COP26, the international climate conference in Glasgow.
Discover the environmental impact of denim and transform an old pair of jeans into something new and original
Explore the concept of equilibrium in nature, then use this as inspiration to design a hat or headpiece from sustainable materials